Features
Full RGB Color Spectrum, with an additional (fourth) white channel for endless color possibilities.
Can be used as a tunable-white system to achieve the exact color temperature of the white light.
Uniform illumination in either RGB or white only configuration.
Versatile lighting solution for lightboxes, sign cabinets, glass storefronts, or ceiling lights.
Manufactured with Bitro's Constant Current Technology for optimal color consistency.
Controlled with standard 24V RGB Controllers and Bitro's Dimming Control Systems.
Easy to install.
Used with 24V LED power supply.
For installation in dry and damp locations.
UL Recognized.
CONTACT FOR A QUOTE
DOWNLOAD THE BROCHURE
Models & Dimension
| Models/Part | Description |
| --- | --- |
| L2GRGBW-5T15-24VBW65RGB-600 | Lattice 2G RGBW (6500K) 5T15, 600mm |
| L2GRGBW-5T15-24VBW65RGB-300 | Lattice 2G RGBW (6500K) 5T15, 300mm |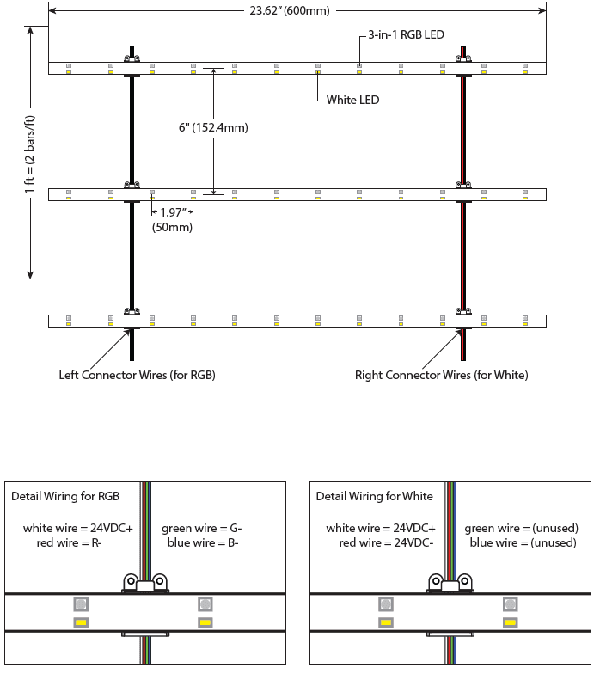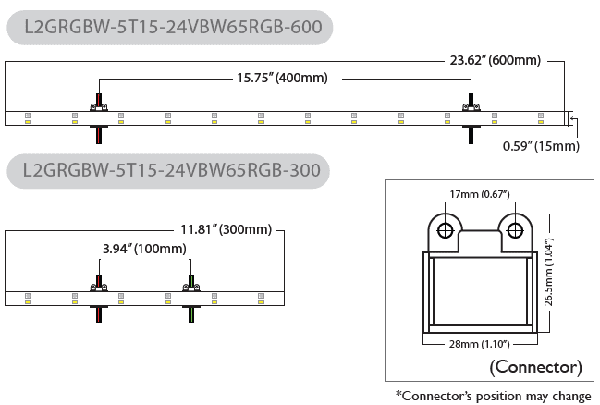 "An Evolutionary Combination Of Bitro's Premier Lattice Product Line "
Lattice Matrix and RGB Full Color Spectrum is combined to provide additional tints and brightness levels.
Ideal and Elegant Solution for Illuminating Large Scale Custom Light Boxes.
Ideal for illuminating rectangular large scale cabinets and ceiling lights.
Lightweight, Tunable and Scalable
This lightweight matrix lighting solution provides uniform illumination. Equipped with both 3000K and 6500K LEDs on a sigle bar and with the use of Bitro's DMX/Dimming System, the light setting can be changed from cool white to warm white to create any ambience.
A Versatile Family of Products
L2G TRGBW-5T5 - 720 lm/sq.ft. on White LEDs or 390.60 lm/sq.ft. on RGB LEDs L2G TRGBW-5T6 - 607 lm/sq.ft. on White LEDs or 325.50 lm/sq.ft. on RGB LEDs L2G TRGBW-5T7 - 480 lm/sq.ft. on White LEDs or 260.40 lm/sq.ft. on RGB LEDs L2G TRGBW-5T10 - 360.00 lm/sq.ft. on White LEDs or 195.30 lm/sq.ft. on RGB LEDs L2G TRGBW-5T15 - 240.00 lm/sq.ft. on White LEDs or 130.20 lm/sq.ft. on RGB LEDs
Download more information