Features
Custom sizes for up to 4′ x 8′.
Uniform illumination and consistent color output.
Excellent backlit engines for ultra-slim light boxes.
Literally, no spacing is needed between the graphics and the light panel.
Custom LED colors available.
Effective for under shelving or interior lighting applications.
CONTACT FOR A QUOTE
DOWNLOAD THE BROCHURE
Models & Dimension
| Models/Part | Description |
| --- | --- |
| - | FELP-VOLTAGE-DIMS-COLOR-#LONG OR SHORT-ADD'L MODIFIER ex: FELP-12V-24X36-BW65-2L |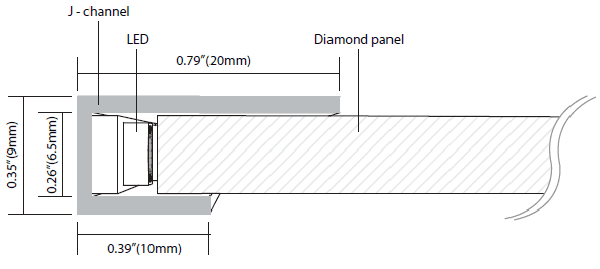 Framless, Ultra-thin Edge Light Panel (Diamond ELP)
Bitro's high-end, technology-boosted lighting solution equipped with backlit engines for ultra slim light boxes.
Energy Efficient
Consumes less energy/minimal power consumption when combined with Bitro's highly efficient LEDs. Longlasting with consistent color and light output.
Illuminates Transluscent Material
Creates a stunningly beautiful effect when used to backlight any translucent material such as acrylic, glass or onyx stone, or when used to create soft accents in interior designs or as a backlight for regular displays.
Available Options
Made with pride in the USA, available options are: DP5 - Diamond Panel, 5mm Thick DP6 - Diamond Panel, 6mm Thick LS5 - Laser-etching Panel, 5mm Thick LS6 - Lase-etching Panel, 6mm Thick VC6 - V-grooved Panel, 6mm Thick VC8 - V-grooved Panel, 8mm Thick
Download more information